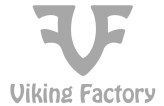 Create all your brand contents
through a single company
We are looking for original and creative experiences with new and exciting challenges.
If you are in the mood
We are committed to high production values as a pro-active and positive team working 
alongside our clients to deliver outstanding films.
We have graphics laboratory based in Paris 8e. We love 2D, 3D, SFX, mixed media and developing new artistic worlds and tools. We are a flexible team
We create and design creative solutions merging 
social media and your brand content on all platforms





Connect over a million people with advergames
Create engagement with your audience through our Game & Gamification Experts.
We are making amazing casual games to build a delightful community of gamers to your business
When an idea become a story
When a story become a movie
Editing, 2D, 3D, animation, Motion Design, VFX & Finishing
29 Boulevard de Courcelles
75008 Paris France
Phone : +33 1 70 38 15 50
Email : viking@vikingfactory😉com
We love to create and discover new world, meet amazing peoples and have fun in life.
Help our client to have the best creative content at the best price.